Archive News
Winter 2016
Thank you to all of our 2016 volunteers for their dedication in serving the children of Sussex County.

MOUNTAIRE BETTER DELMARVA AWARD
On Wednesday, December 14, 2016 Clothing our Kids was awarded the Mountaire Better Delmarva Award for the organizations dedication and contributions to the children of Sussex County.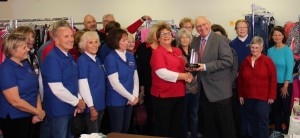 Autumn 2016
 Del-One FCU and the Del-One Foundation are focused on giving back to the community.  The Del-One Foundation raises funds throughout the year for charitable purposes to benefit the residents of Delaware.  Yesterday, 11/29 "Giving Tuesday" kicked off our Holiday Spirit Give Back campaign!  The Foundation donated an additional $7000 to Clothing Our Kids, a local organization whose mission is to "improve the lives of at-risk elementary school children by providing them with essential school clothing".  The Del-One Foundation also sponsored and participated in the Clothing Our Kids annual golf tournament in October, and members and staff of Del-One collected and donated over 15 bags of clothing to this amazing organization.  #GiveBack  #GivingTuesday  #DelOneWay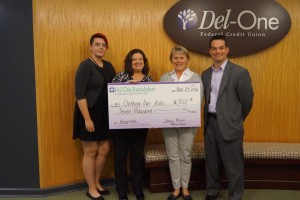 Pictured L-R: Del-One Foundation Board Director Heather Gunter, Del-One Foundation Board President Amy Resh,  Clothing Our Kids Rep. Kate Gibson, and Del-One FCU President/ CEO Dion Williams.
The Ribbon Cutting at the New Volunteer Center was held on October 25, 2016. We are very grateful to the business community for joining us for this occasion. Thank you to John Yeatman, Jr for taking the picture of our Ribbon Cutting!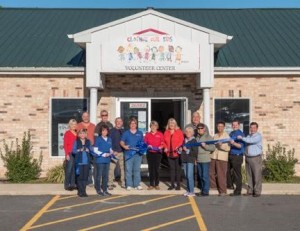 Thank you Arena's for donating 10% of the diner's meal on October 18th! and… Thank you to the over 50 supporters who dined at Arena's helping to make this event a success!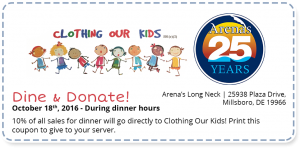 Summer 2016
2016 August —- Stephen and Company sponsored a Cut-A-Thon for 25 children. Thank you to all their clients who donated over $3,000.00 to Clothing our Kids!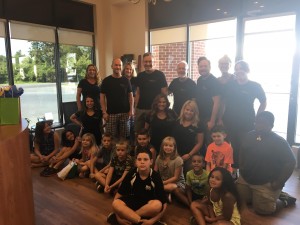 2016 August —- Kiwanas Club, Bridgeville, DE —- The Bridgeville Kiwanis International Club extended a gracious invitation and allowed one of our volunteers, Glenn Schuster, present Clothing Our Kids Mission to their organization. Thank you Glenn!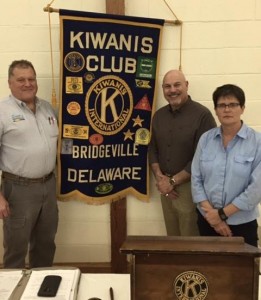 2016 August Volunteer Committee Meeting Sporting The Clothing Our Kids Volunteer Attire!!!
Christmas in June?! The Girls Club of Sussex County say thanks!!!
Many thanks to Haddad for their GENEROUS donation of over 5,000 boys and girls shorts and tops! We had some very happy volunteers on deck to unload the 775 boxes for the kids of Sussex County. It was a very exciting day and we are most grateful!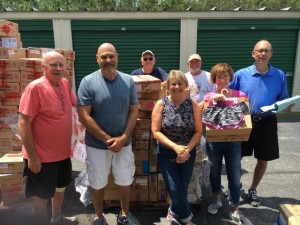 March 2016
March 2 –  Lunch with a Purpose 

Wow!  Thank you to 190 women, including 60 Clothing Our Kids volunteers, for attending the Lunch with a Purpose at Atlantic Sands in Rehoboth Beach.  The Clothing our Kids organization received $4,275.   Thanks to the generosity of the attendees over 5,000 items were collected for "Little Graces Kids'!   Thank you to everyone who donated their time, auction items, and dollars.
Video of Lunch with a Purpose:
March 20 – Hawkseye Run Walk 
On March 20th, the Hawkseye neighborhood sponsored a Run/Walk event to support Clothing Our Kids.   Thank you all for attending this event!  We collected $2,645.   A huge thank you to the Hawkseye Community kids for collecting 60 bags of clothing! 
 
March 19 – Nanticoke Health Fair  
February 2016
COK's friend Barbara Curran is doing it again! This time it's a Silpada Fundraiser.  During the week of Feb 10-17, Barbara is donating 20% of all online sales to COK.  We appreciate her ongoing support and efforts!  Also, Barbara will be giving away a door prize.  After your order is placed online, you will have a chance to win these beautiful earrings valued at $89!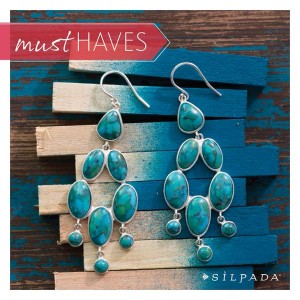 Shop at the new Spring Collection using the special fundraiser link below:
January 2016
Thank you Haddad Brands for your generous donation of 400 Levi Jeans and Fleece-wear for Clothing Our Kids!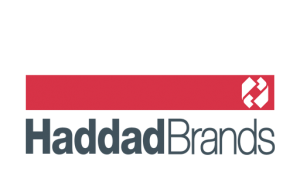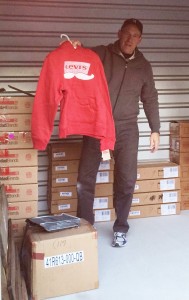 2015 Clothing our Kids Events
December 2015
Clothing Our Kids is extremely thankful for the many events and donations to support Clothing our Kids during 2015.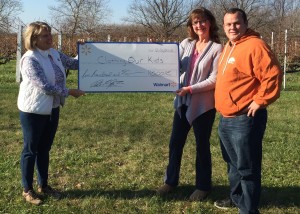 Many Thanks to Punkin Chunkin for their $500 donation to Clothing Our Kids!
---
December 10th, 2015 – Dine & Donate!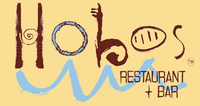 Bring a donation for Clothing Our Kids and receive a complimentary Amuse-bouche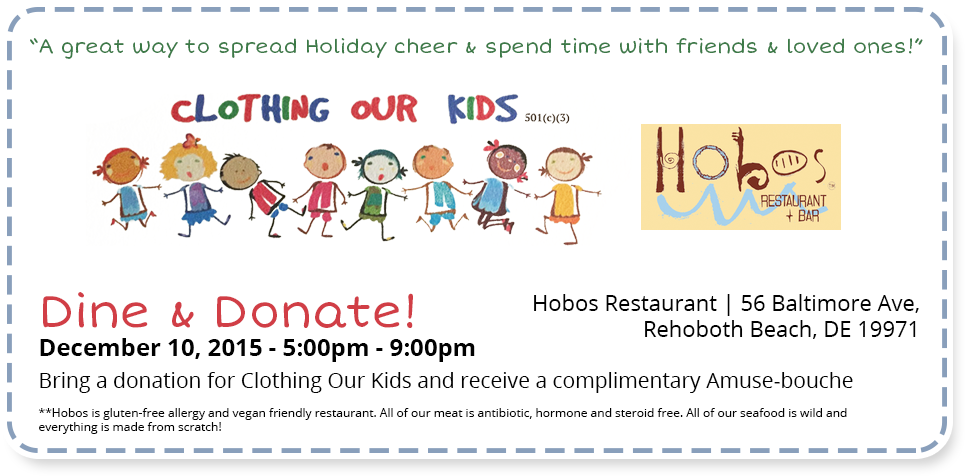 November
November 7th, 2015 – Sample Sale!
Join us from 1:00 – 3:00 p.m. for WINE, CHEESE, DOOR PRIZES & 50-80% off of NEW Housewares, Toys, Beauty Products, Accessories, Tech Gadgets & more! *10% of ALL sales will be donated to Clothing Our Kids. Cash & Carry (checks will be accepted)
Location: Barbara Curran's Home (24562 Atlantic Drive – Marina Bay)
---
November 10th, 2015 – Dine & Donate!
10% of all sales for lunch and dinner will go directly to Clothing Our Kids! Click Coupon below to give to your server.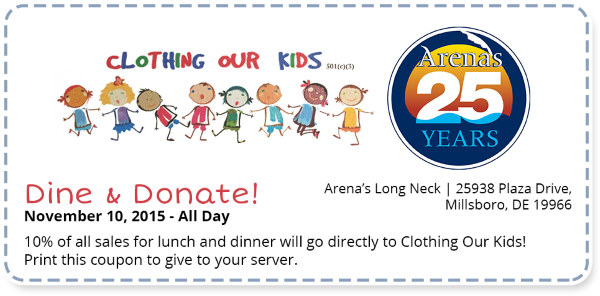 ---
November 14th, 2015 – Dine & Donate!



10% of all sales for lunch and dinner will go directly to Clothing Our Kids! Click Coupon below to give to your server.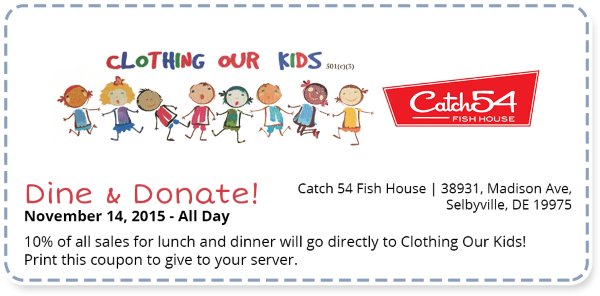 ---
November 1st – 30th: CLOTHING DRIVE
Sponsored by the Del Tech SGA. TWO drop-off locations: Del Tech's Main Entrance & the Student Services Building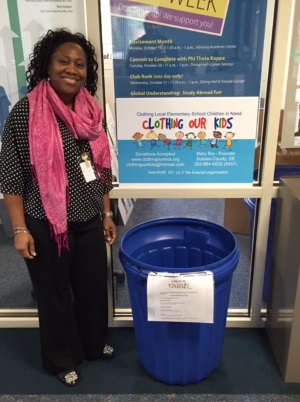 April 2016
April 23 –  Rotary Club 45th Annual District Conference – Clothing our Kids will have a table at the district's conference. 
Speaking engagement – August 2015
Pictured here: Rotary Chapter President: Tamara Morgan & Volunteers: Kate Gibson & Becky Schumacher