Clothing Drives
2022 Clothing Drives
October 1 – November 28, 2022:
GEORGETOWN PUBLIC LIBRARY FALL CLOTHING DRIVE
September 2022:
STONEWATER CREEK WOMEN'S CLUB HOSTS A "HOODIE DRIVE": 
The Stonewater Creek Women's Club has once again demonstrated their generosity to Clothing Our Kids by hosting a "hoodie drive" at their monthly meeting on September 7, 2022. A total of 111 zippered hoodies ranging in size from child through adult were delivered to the COK Volunteer Center by Stonewater Creek resident Ellen Herritt. She is pictured below with the amazing collection of hoodies!
What a wonderful way to start the school year with warm hoodies for 111 of our most needy Sussex County children! Many thanks to such a heartwarming and generous community!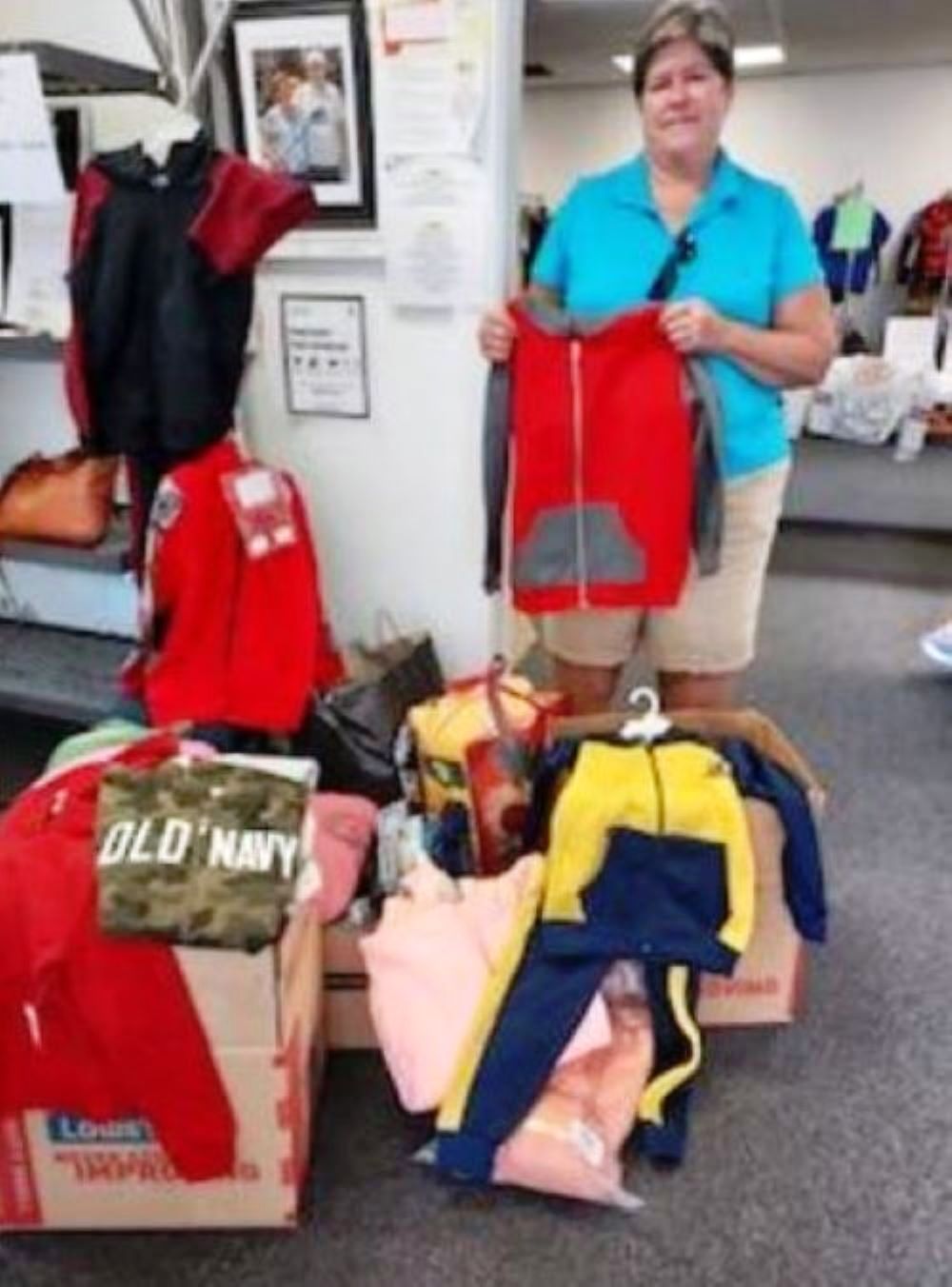 August 2022:
SEABROOK COMMUNITY CLOTHING DRIVE: 
The Seabrook Community in Millsboro conducted their first clothing drive to benefit the school children of Sussex County for two weeks in August. In addition to COK receiving a variety of clothing including plus size items, shoes, tops, bottoms and underwear, a monetary donation was made of $490. One member of the group, commented: "I hope this turns into a yearly event." This clothing drive demonstrates the caring and generous nature of the people who live in Seabrook! Pictured below are: Terry Norris, Heather Tschop, and Mary Grace Barbye who delivered the clothing to the COK Volunteer Center on John J Williams Hwy in Millsboro.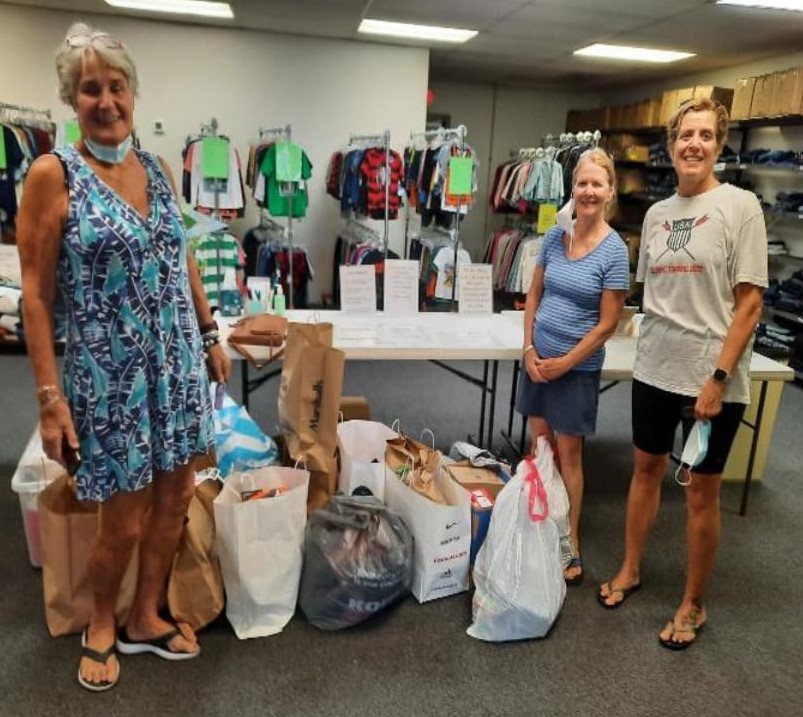 ST. MATHEWS BY THE SEA UMC CLOTHING DRIVE:
St. Matthews by the Sea UMC ladies' group organized a two-week clothing drive to help kick off the school year. Marilyn Wockley who is pictured in the photo delivered many bags of clothing and $1000 in checks and cash to the COK Volunteer Center in Millsboro. Marilyn stated that she was pleased with her small church's efforts with the clothing drive. COK agrees and believes this little church has a big heart.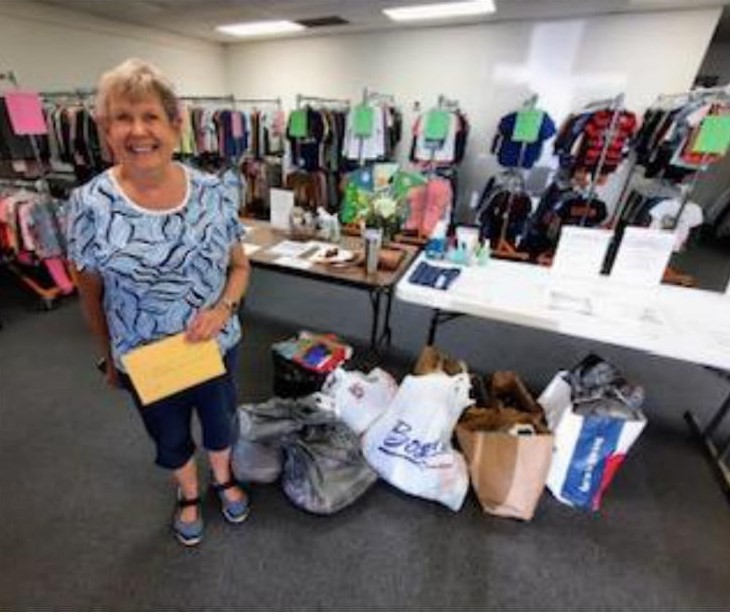 May 2022:
DAVIS CHIROPRACTIC CLOTHING DRIVE: 
DAVIS Chiropractic in Georgetown is a clothing donation location for Clothing Our Kids (COK) and recently accumulated an array of school clothing for Sussex County kids in need.
It is with sincere gratitude that COK received an abundance of new items to distribute to our neighborhood children requiring sufficient school clothing.  Davis Chiropractic has kindly partnered with COK by opening their offices as a drop-off location for such collections.  The organization depends on partners like these to make it easier for Donors across the county who wish to help the kids.  Pictured below are Rebekah and Charles Davis at the Davis Chiropractic offices.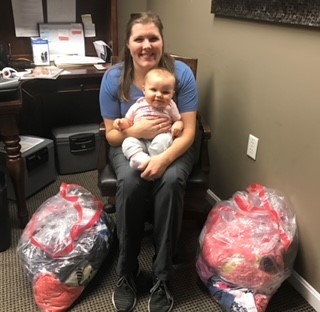 March 2022:
BIG FISH CHILDREN'S CLOTHING DRIVE: 
A BIG thank you to the folks at BIG FISH for hosting this Clothing Drive for the Sussex County school kids in need. It takes a village to offer an opportunity for every child to achieve excellence, and BIG FISH is a kind and generous member of the Clothing Our Kids (COK) village. Providing this clothing ensures COK will fulfill its mission of assisting our kids with an equal start in their early education and help them become successful students. And, the food and service at all BIG FISH restaurants are superb.

2021 Clothing Drives
December 2021:
RIVER CHURCH IN FRANKFORD "ROCKIN' THE STOCKIN'" CLOTHING DRIVE: 
A huge thank you to The River Church in Frankford for their Rockin the Stockin Clothing Drive resulting in two very large bins filled with clothes and coats for the Sussex County School children in need. COK Board Member Heather Sells Ennis is pictured with her husband Pastor Bryan Sells.  Pastor Sells is also pictured with COK Volunteer Center Manager JeanAnn Hudson. Our KIDS are so blessed with the generosity of The River Church congregation.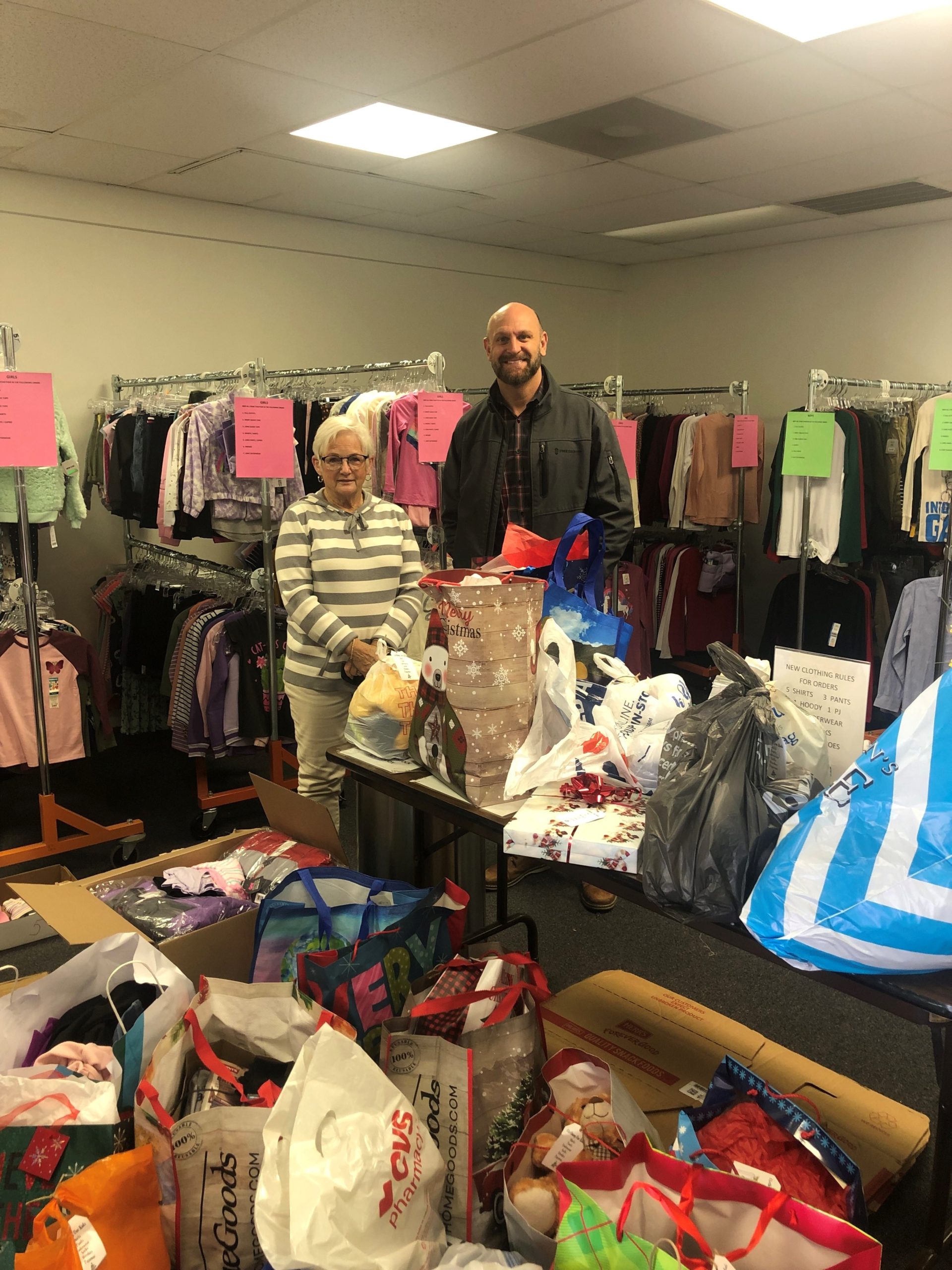 BAY POINT COMMUNITY ANGEL TREE CLOTHING DRIVE: 
Bay Pointe Community has continued to help COK this year with another spectacular Christmas gift! Their annual Angel Tree event was held on December 22, 2021. Kim Simpson, social chairperson explained that the members at Bay Pointe community are a very generous and caring group. This is the third year that they have chosen COK as a charity that they wish to support. We cannot begin to express how grateful we are that we are the benefactors of such a giving spirit!   Pictured below is Kim Simpson with just a few of the items donated! Thank you from the bottom of our hearts!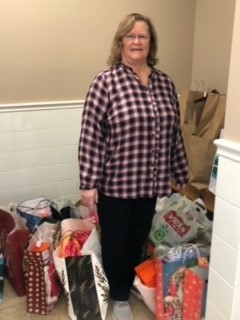 JOYNT PHYSICAL THERAPY (MILLSBORO)  CLOTHING DRIVE: 
Clothing Our Kids was the lucky recipient of a clothing drive in December, 2021 to benefit the needy kids of Sussex County. This event was organized by Bryan Peden, physical therapist at Joynt Physical Therapy in Millsboro.  Their kind donation of clothing and shoes was picked up by volunteer, Nancy Hoffman on 1/6/22. Pictured below is Jennifer Merritt and Bryan Peden. Through their generous efforts, we can continue to provide warm clothing to many at risk children in our community. Thank you to Bryan his staff and all of those who contributed to Clothing Our Kids!
VANDERWENDE CLOTHING DRIVE: 
The annual Santa's Workshop was held on December 17, 2021 at Vanderwende Acres in Seaford. Donations of children's clothing including hoodies, pajamas, underwear and many other items were generously donated to Clothing Our Kids!  The event was organized by Caitlin Bunting, Vanderwende Acres Events and Marketing Manager.  Clothing was picked up and delivered by COK volunteer, Brenda Benson.  We are so grateful for these generous donations. This wonderful event was truly an example of the spirit of the season!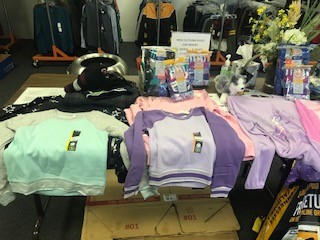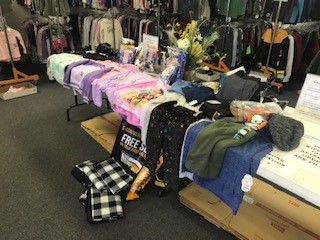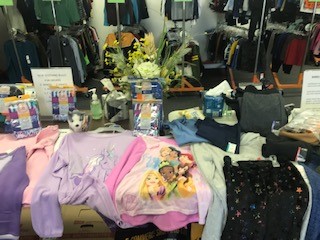 THE VILLAGES AT FIVE POINTS CLOTHING DRIVE: 
Many thanks to The Villages at Five Points for this impressive donation of warm clothing and shoes for the Sussex County school kids in need. They're being dressed for success in their educational pursuits.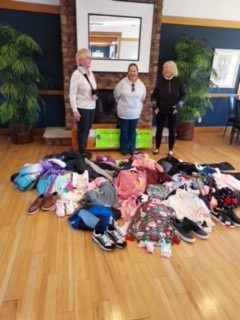 November 2021:
GEORGETOWN PUBLIC LIBRARY CLOTHING DRIVE: 
From October 11 to November 30, Georgetown Public Library generously sponsored a clothing drive to support the Sussex County school children in need through Clothing Our Kids. Pictured below is the amazing bundle collected by COK Volunteers Margi Palmer and Joan Wojewoda from that drive. Included in the carload was a whole variety of winter clothes – coats, hats, gloves, pajamas, casual wear, sweaters, pants and shirts.  Also pictured below are Rachel Culver, Director, and Meghan Palazzo, Assistant Director, of Georgetown Public Library.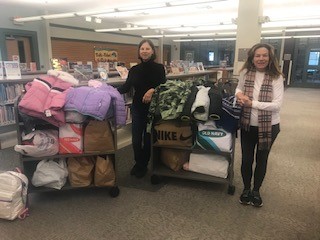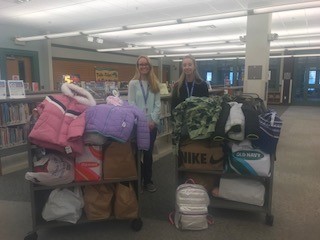 KNIGHTS OF COLUMBUS BISHOP BURKE COUNCIL 11285 CLOTHING DRIVE:  
On November 30th Clothing Our Kids received a donation of 38 winter coats from the Knights Of Columbus Bishop Burke Council 11285. Pictured left to right are Larry Bucci, Tom Keating and Andy Schopfer. That's our own Robin Hartwell receiving the coats at the volunteer center! Thanks so much for this wonderful contribution!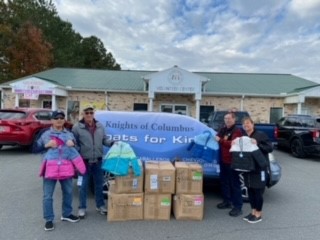 SELBYVILLE COMMUNITY WOMEN'S CLUB CLOTHING DRIVE:  
The Clothing Drive was a Selbyville Community Women's Club effort that began when they learned about Clothing Our Kids (COK) through social media. The Club has a monthly newsletter which began mentioning COK in the September issue after Club Members explored the web site and obtained more knowledge from long-time Community Outreach Volunteer Eileen Wilkinson. Eileen offered to speak with the group, so they scheduled the Clothing Drive in conjunction with her visit. All at COK are thankful for generosity of the members of the Selbyville Women's Club in supporting the Mission of Clothing Our Kids. Pictured below are members of the Selbyville Community Women's Club with President Deb Hiob in the front row on the far right.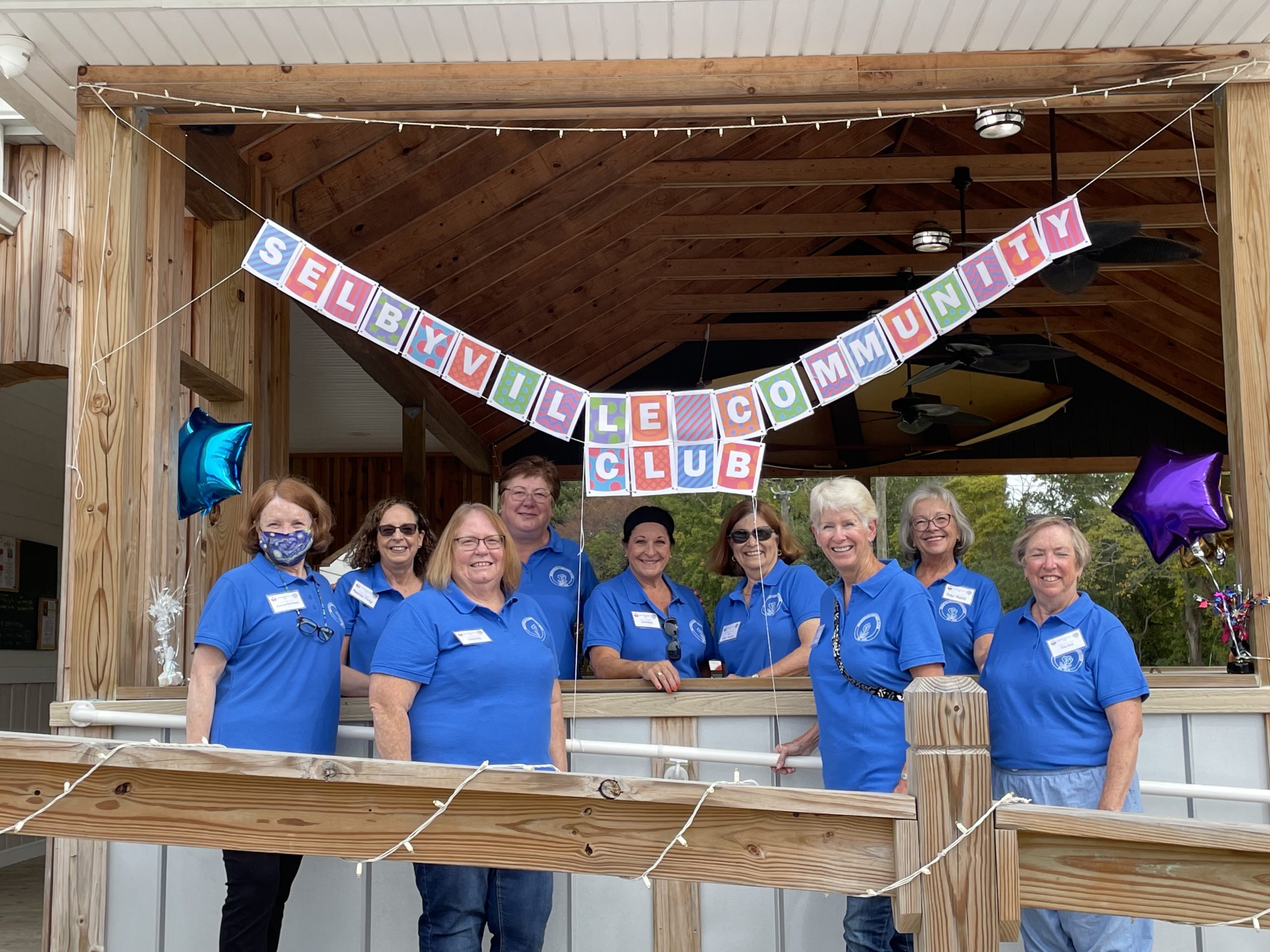 October 2021:
MOUNTAIRE EMPLOYEE COAT DRIVE YIELDS 150 — NOT JUST JACKETS —BUT HATS AND GLOVES TO KEEP OUR KIDS WARM THIS WINTER:  
The Sussex County school kids in need will be warm and cozy thanks to the generosity of all employees at Mountaire. A clothing drive was planned for most of October, and the photo below represents the haul benefitting the kids served by Clothing Our Kids. Organizing the transport from Mountaire to the COK Volunteer Center are from left to right: Director Communications & Community Relations Cathy Bassett, IT Help Desk Support Manager Josh Barre, Communications & Community Relations Specialist Rachel Lord, Director IT Manufacturing & Support Brett Ryan, Network Analyst David Plum and COK President Bob Blouin.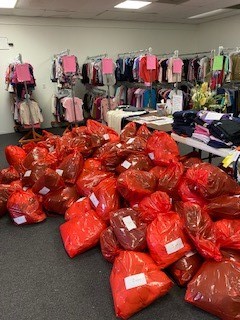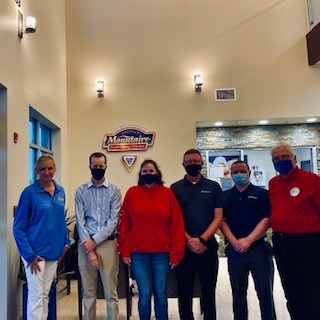 September 2021:
STONEWATER CREEK LADIES CLUB CLOTHING DRIVE
Thank You to Stonewater Creek Ladies' Club:   The Sussex County School Kids in need thank the Stonewater Creek Ladies' Club for "Hoodies from the Neighborhood", a clothing drive organized to clothe them in style for the new school year. COK received a whopping 153 hoodies from this wonderful group represented by Kathy Lane (COK's Outreach Committee) on the left and Karen Herritt on the right flanking Center Director Karen Borges.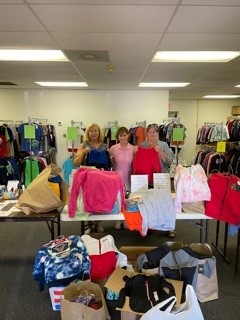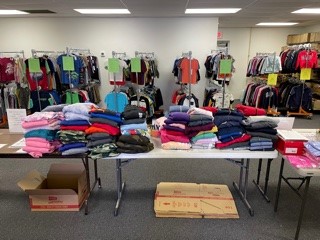 April 2021:
Eagle's Nest Church Clothing Contribution.   COK is grateful to Eagle's Nest Church for an amazing assortment of school clothing from their recent drive. Patti Weed and Carol Upman personally delivered the clothing to the Volunteer Center and are pictured with Center Director Karen Borges.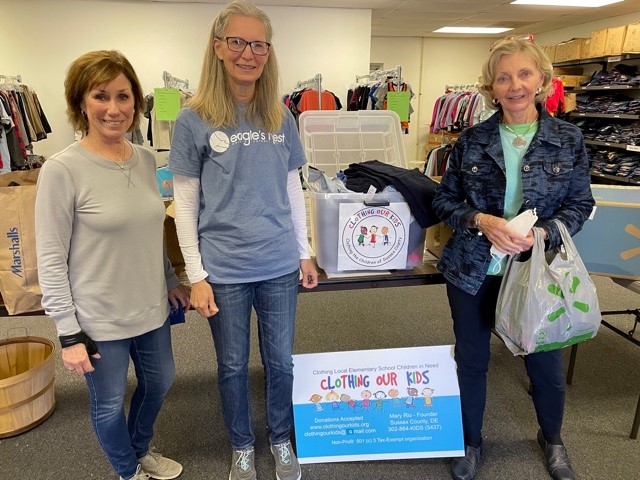 2020 Clothing Drives
November 2020:
Women's Club of  Stonewater Creek Clothing Contribution.   The Women's Club of Stonewater Creek donated pajamas, shirts, pants, track suits, winter jackets, hoodies, and various accessories for COK to give to kids in need.   THANK YOU!!  We truly appreciate your generosity!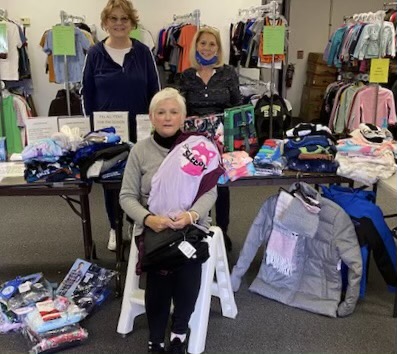 January 2020:
Janney Donates to Clothing Our Kids.  Janney's financial advisors and staff in its Lewes office collected needed apparel items to support Clothing Our Kids this holiday season.  THANK YOU! We appreciate your generous donation!
2019 Clothing Drives
September 2019:
Sneakin' into September Clothing Drive. Stonewater Creek Women's Group, chaired by Kathy Lane, collected over 100 pairs of sneakers for COK to give to kids in need. THANK YOU!! We truly appreciate your generosity!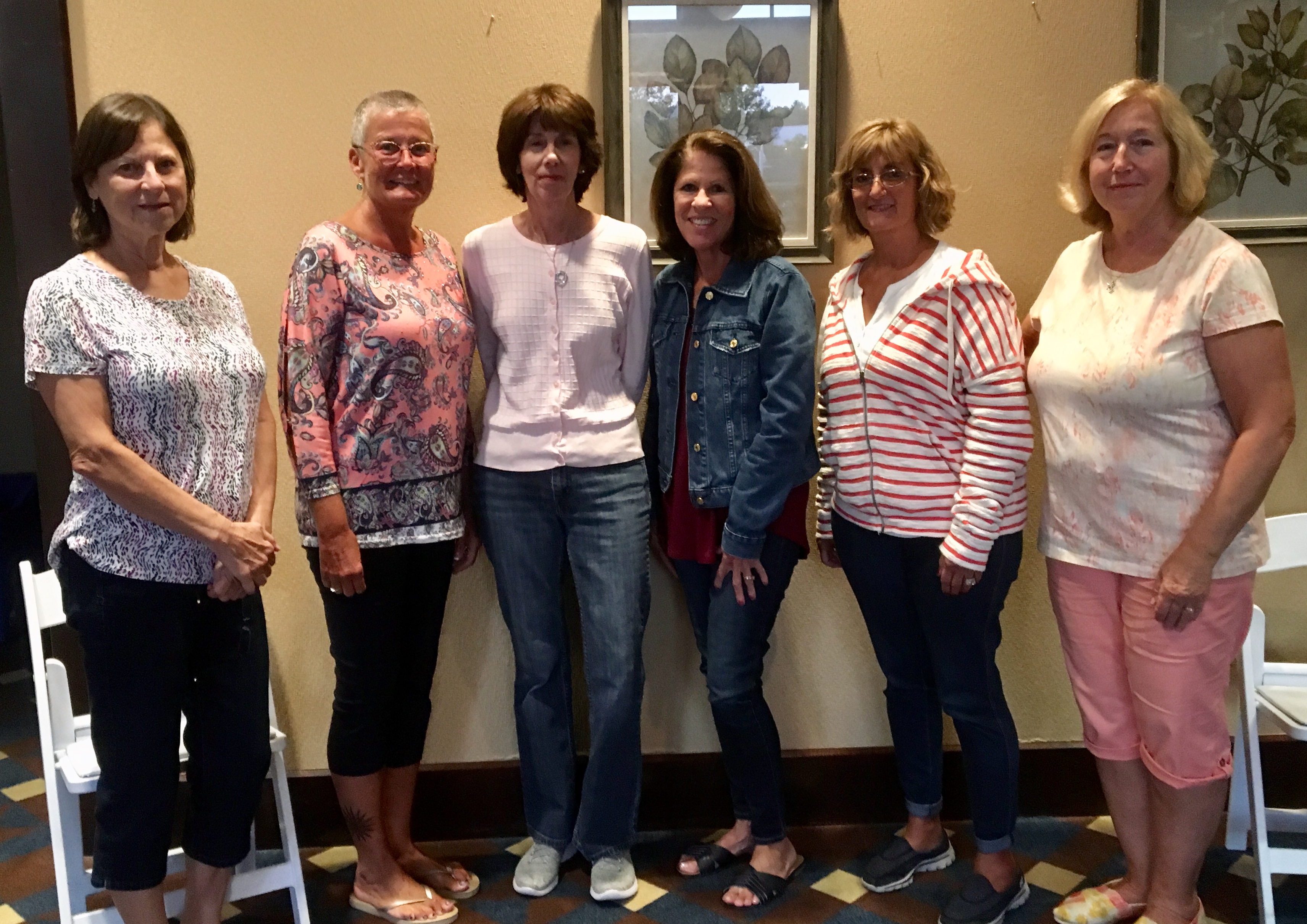 Clothing Drives prior to 2019 are included in the Archive News.