Events
2019 Clothing our Kids Events
Upcoming Events:
October 15, 2019 Arena's Charity Night to Support COK
Past Events: 
October 7, 2019 COK 2019 Sixth Annual Charity Golf Outing 
August 1 – August 31, 2019 GIANT Food Community Bag Program to help COK
August 1 – August 15, 2019 Custom Surfboard Auction to Support COK 
February 1 – 28, 2019  Kim Benton Agency State Farm –  COK Donation for Referral
January 7, 2019 Arena's Dining Event
2018 Clothing our Kids Events
October 27 – December 15, 2018 PARSONS PRODUCE wants to help the kids
November 22, 2018 Peninsula Golf & Country Club Annual Turkey Trot
November 13, 2018 Blackwall Hitch Dining Event
November 10, 2018 Kids' Ketch Neighborhood Toy Store Day Event
March 28, 2018 Brick Restaurant in Georgetown Dining Event
2017 Clothing our Kids Events
DECEMBER 2017
"COK helped the SCAOR ( Sussex County Association of Realtors) again this year with donations of 112 coats, hats and gloves.  The Association has been providing gifts and clothes to Sussex County children for over 25 years.  We at COK are privileged to be a part of this effort."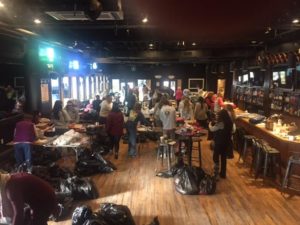 OCTOBER 2017
Envision raised $750.00 for Clothing Our Kids!  This is the second year in a row that Dr. Miller has been a fundraiser for COK! We are grateful to Dr. Miller's contribution.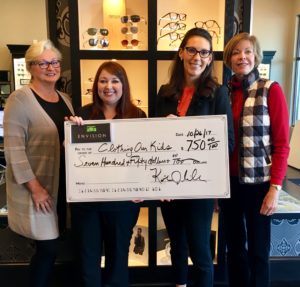 From left:
Susan Hamilton, Tatiana Bennett, Dr. Katie Miller, Monica.
SEPTEMBER 2017
Volksbash Fundraiser 2017
$300.00 was raised for  Clothing Our Kids!  Thank you for this wonderful event!
AUGUST 2017
A great day was held with the kids at Stephan & Co!  $2525 was raised for COK!!  Thank you to Stephan and Company and all the patrons who supported this annual August event !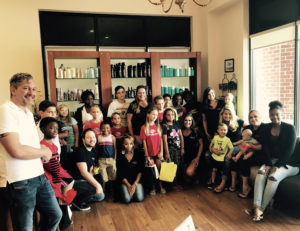 Clothing Our Kids Summer Raffle raised $6,500 for Clothing Our Kids!

Thank you to The Leadership Team Audacity 2.0* held a "Summer Raffle"  of a beach cruiser bike to benefit the Clothing Our Kids nonprofit organization which is located in Sussex County, DE.  The Leadership Team is a group of local professionals who are seeking to give back to the community by organizing this fundraising campaign to support the tremendous work being accomplished by Clothing Our Kids.

* The Leadership Team Audacity 2.0 is comprised of a group of local professionals who participate in Leadership programs offered by Transformative Dynamics.  The team is comprised of:

Rachel Allen – Carl M. Freeman Companies

Tara Cooper – Beebe Healthcare

Sean Cummings – Miken Builders

Jamie Dickerson – Beebe Healthcare

Bernadette Dowling – Joshua & Carl Freeman Foundations

Steve Morgan – Fairfax Mortgage Investments, Inc.

Angela Tibbitt – Book & Associates

 

**The beach cruiser bike was generously provided in part by Bethany Bike Shop . The drawing was live streamed on Facebook on Thursday, August 16, The winner was Mary Delgado. Proceeds are still forthcoming but over $5500 was raised to date!
JULY 2017
"Clothing Our Kids is extremely thankful to Ellen Spell and Jessica Owens of Sea Barre Fitness in Lewes for their support and commitment to the Sussex County children in need. Sea Barre Fitness hosted a Benefit Ride July 9 with COK the recipient of all proceeds. $275.00 was raised for COK!  Enormous thanks to all participants for helping COK help "the Kids"."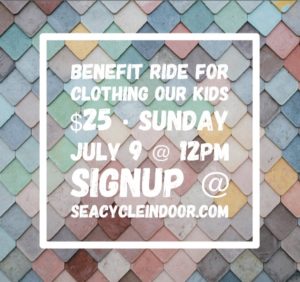 MAY 2017
Del-One is sponsoring a community tent on Saturday, May 6th for the Dover Days Festival. Clothing Our Kids will be participating in this event. Please stop by to support Clothing Our Kids!
JANUARY 2017
Thank you to all of our 2016 volunteers for their dedication in serving the children of Sussex County.