News Clips
2020 News Article and Video Clips
November 2020:
Giving Thanks for Charity through Golf.  Excerpt from Cape Gazette article by Fritz Schranck dated November 28, 2020:
"Clothing Our Kids is one of most successful grassroots charities to be created in the Cape Region. The organization provides clothing and footwear to needy elementary-age children throughout Sussex County. The primary source of funds has been a fall golf tournament at Peninsula, where many of the charity's supporters live. The tournaments' successes inspired a second fundraiser in the spring, an auction party.
The pandemic response forced the postponement of both the golf tournament and the spring auction in 2020, along with a significant cutback in the charity's day-to-day operations.
Undaunted, COK chose a new option to deal with the situation. On Sept. 27, the Kruisin' For Kids parade of highly decorated cars, often convertibles, rode through the Peninsula's neighborhoods. Butterfly nets hanging from the cars collected donations from residents, and a safely spaced tailgate party to judge the car entries finished the day. It raised $8,000 – not a huge amount compared to the five-figure sums raised normally, but it will spend, and the county's needy children will benefit."
October 2020:
Kruisin for Kids (KFK), a parade of creatively decorated cars through the Peninsula, raised more than $8000 for the kids of Sussex county.  THANK YOU to all participants and contributors!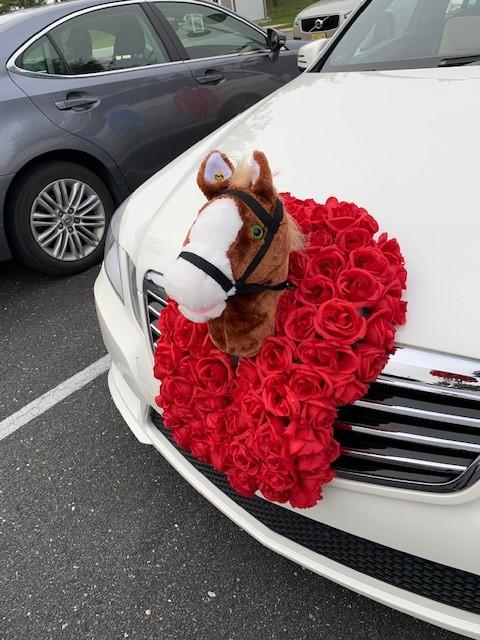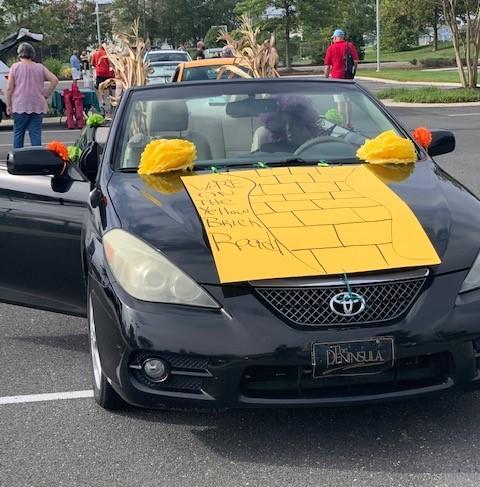 Kruisin for Kids – Press Release
August 2020:
Clothing Our Kids (COK) Recognizes Two Outstanding Board Members and Announces New Members.  This month's COK Board Meeting recognized two outstanding Volunteer Board Members as they step down after each served an eight-year tenure. Also, four new members were welcomed to the board.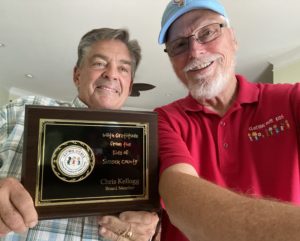 2020 Clothing Our Kids Board Members Changes – Press Release
March 2020:
An Enchanted Evening Under the Stars to Benefit Clothing Our Kids.  The second annual Kickin' it up for Kids Fundraiser will be held on April 16, 2020, at the Peninsula Golf & Country Club.   (Postponed)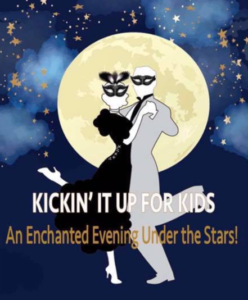 2020 Auction Party Fundraiser – Press Release
2019 News Article and Video Clips
September 2019:
Sneakin' into September Clothing Drive.   Stonewater Creek Women's Group, chaired by Kathy Lane, collected over 100 pairs of sneakers for COK to give to kids in need.   THANK YOU!!  We truly appreciate your generosity!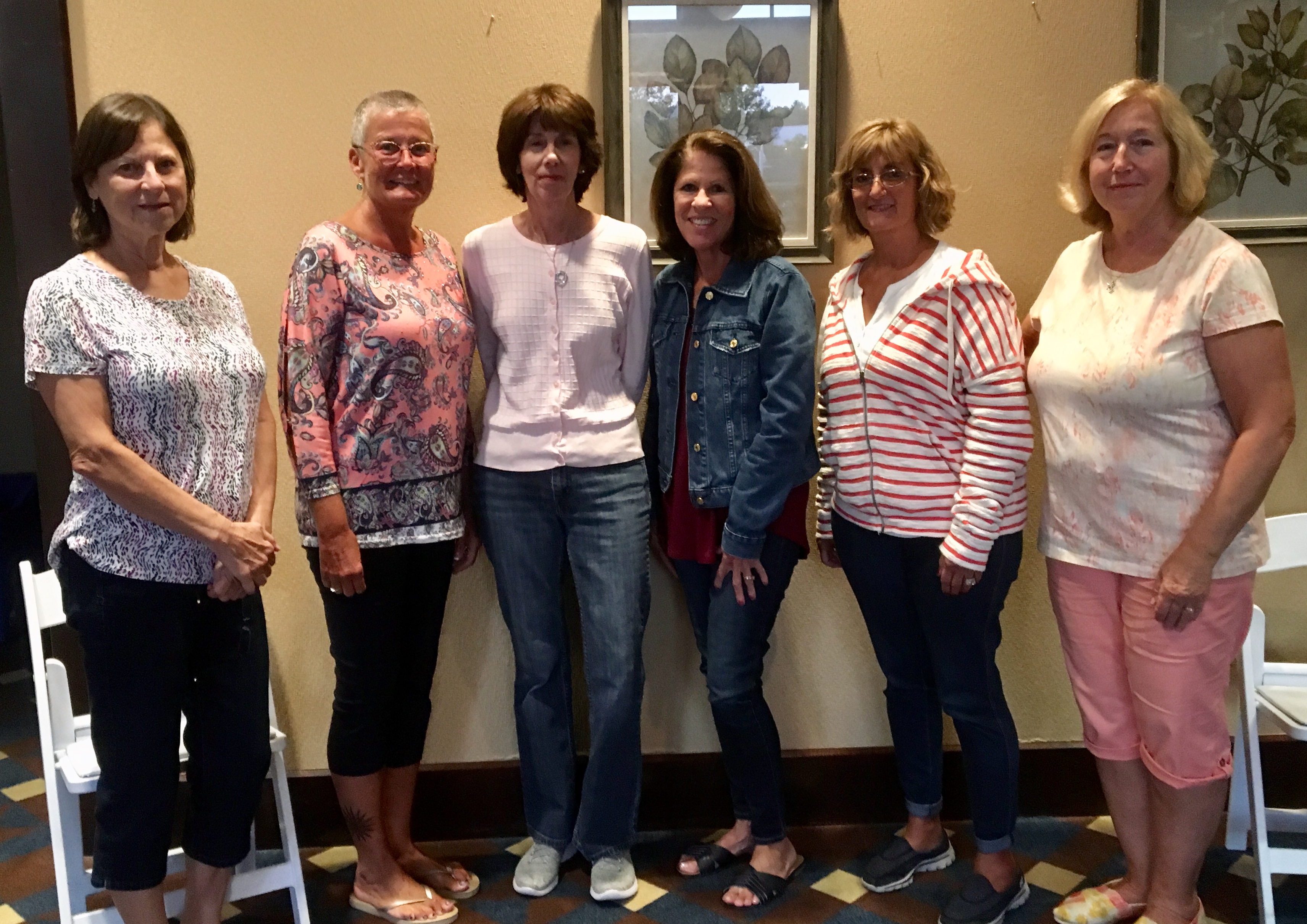 August 2019:
Custom SurfBoard Auction to Benefit COK.  Bids accepted through August 15, 2019.  A collaborative group of artists, designers, and craftsmen has teamed up to create a one-of-a-kind surfboard which will be auctioned as a fundraiser for Clothing Our Kids.    

Custom Surfboard Auction Details
July 2019:
Through their "Bidding for a Cause Silent Auction" program, the employees of ALOFT AeroArchitects at Delaware Coastal Airport donated $620 to Clothing Our Kids. Pictured are the CEO of AeroArchitects Bob Sundin and COK Board Member Bob Blouin. On behalf of the Sussex County KIDS in need: THANK YOU! We appreciate your generous donation!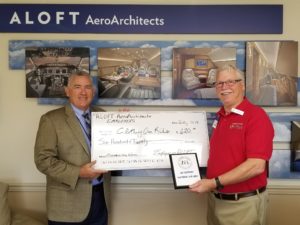 April 2019:
Many thanks to Dogfish Head "Tasting Room and Tours Tip Program" which donated $5,952.92 on April 16th to COK!  We so appreciate your generous donation!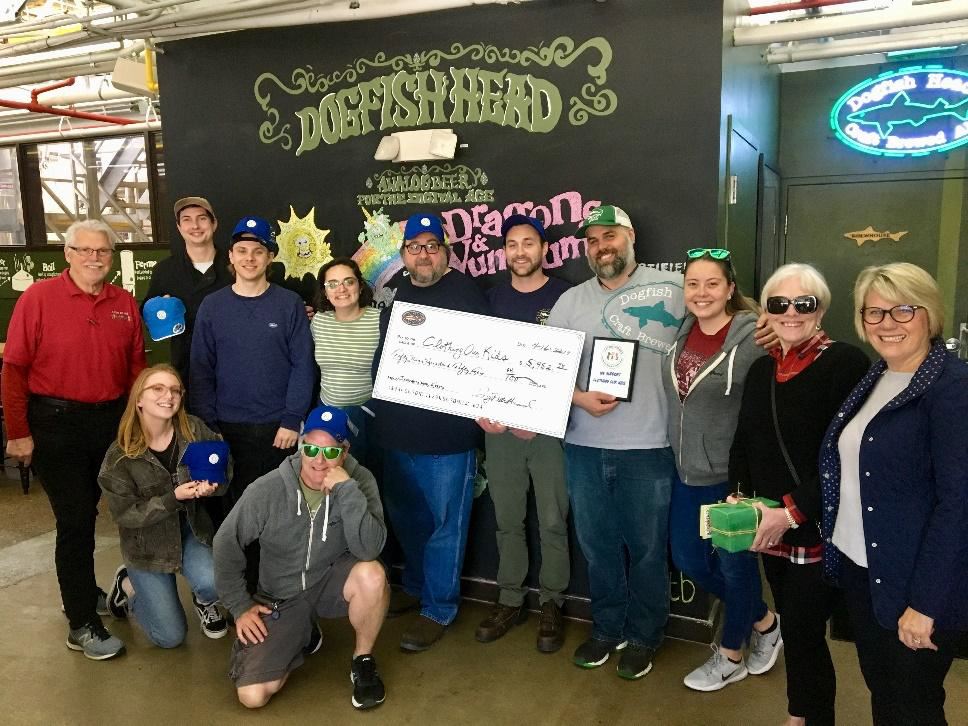 Dogfish Head Donation to COK – Press Release
Auction Party held at Peninsula Golf and Country Club raised more than $54,000 for COK.  THANK YOU to all donors, volunteers, and participants for making this such a successful event!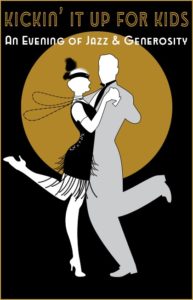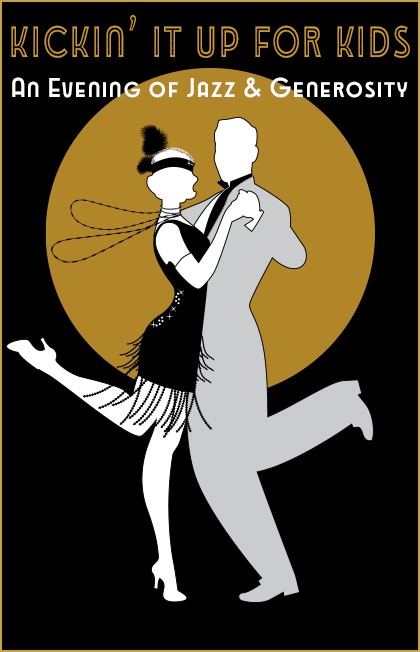 Auction Party Fundraiser – Press Release
2018 News Article and Video Clips
October 2018:
Beachcomber Corvette Car Show- Many thanks to this wonderful club which donated $2,105.00 on Oct 4th to COK!  They Rock!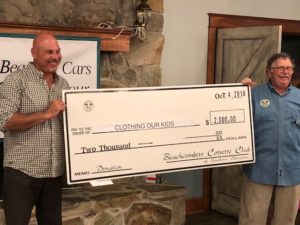 September 2018:
John Smith, COK President – Cape Gazette Letter to Editor
August 2018:
Delaware Living – Two Delaware Electric Co-op Members Honored Nationally
John Smith, COK President – Year End Wrap Up
June 2018:
"Thank you to our Friends at Beebe Hospital!  WE are all part of one community and COK is so grateful that you were able to collect enough brand new articles of clothes for us to aid over 200 kids in NEED right here in Sussex County!  We so appreciate the program you've put in place to help us gather clothes this summer in preparation for the upcoming school year!
From all of us at COK, a big round of THANKS!"
Thank you Laurie Dickerson, Lynne Brumbaugh, Quanda Curtis-Bozman (Pictured below).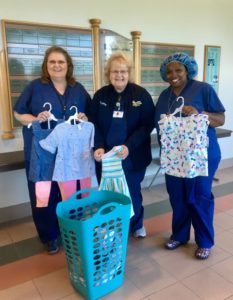 May 2018:
Thank you to the Carl M Freeman Foundation for hosting and honoring Clothing Our Kids at the annual May reception with a $5,000 grant award.  We are delighted and honored to have been selected as a 2018 Carl M Freeman Foundation FACES grant recipient.  This grant award will purchase clothing for children as they begin the 2018/2019 school year!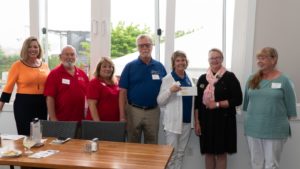 The Nanticoke Rotary  awarded a  $1,500 Grant from their annual Grant Fund to Clothing Our Kids!  Thank you to this Seaford Delaware Organization for your support.  We are honored to have been one of 5 organizations to have been selected.  This Grant will allow us to purchase more clothing for the Kids of Sussex County.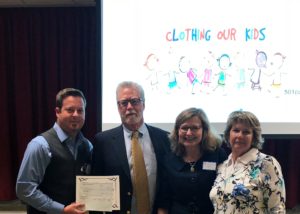 March 2018:
Lewes-Rehoboth Rotary donated $2,000 to Clothing Our Kids!   Thank you to George Jarvis for nominating COK to the Rotary, this donation will allow us to purchase more clothing for the Kids of Sussex County!     Cape Gazette – Lewes Rehoboth Rotary Donation
Nanticoke Health Fair was conducted on March 17, 2018.   Kim, Kathleen, Monica, Maria and Glenn hosted a COK booth, creating more Sussex County awareness about the Clothing Our Kids mission.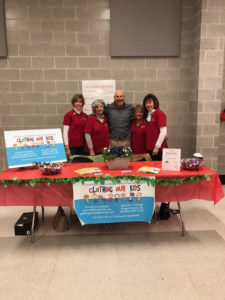 Dogfish Head Brewery Staff collects tips each month to donate to a charity. In January, COK was pleasantly surprised with a check for $2735.67 from this incredible Staff at one of Sussex County's most successful businesses. Matt Feterson, Off-centered Tour and Tasting Room Manager, is the lead on the program. COK volunteers visited the Brewery in Milton to thank the Dogfish Head Staff during their monthly meeting on Friday March 16. Thank you Dogfish Head Staff for your kindness and generosity to the KIDS of Sussex County.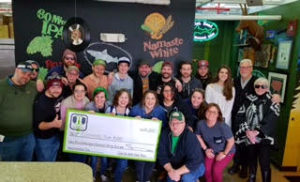 February 2018:
Community Bank of Delaware Donates $1,000 to Local Organization "Clothing Our Kids" 
In an effort to support the children of Sussex County, Community Bank Delaware donated $1,000 to "Clothing Our Kids". Jack Riddle, President of Community Bank Delaware noted, "This grassroots organization is really making a difference for children in our community, we are happy to help out."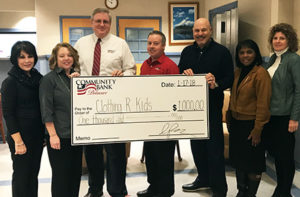 Shown are (L-R) – AVP Lori Ruberti, CFO Angie Warrell, President Jack Riddle, AVP Brandon Perdue, Clothing our Kids Outreach director Glenn Schuster, AVP Dawn Burbage and VP Shannon McGinn 
Glenn Schuster, our Community Outreach Director, promoted clothing Our Kids on the Weller Does Delmarva Show on Feb. 10th. – Weller Does Delaware
January 2018:
Delaware Electric Cooperative  –   Who Powers You!   Mary Rio, COK Founder
The Delaware Way –  Jack Blannett, COK Board Member Interview
2017 News Article and Video Clips
December 2017 – Cape Gazette Article – COK President Community Thank you 
October 2017 – 2017 Governor's Outstanding Volunteer  Award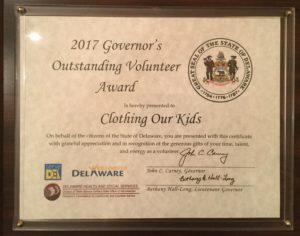 Read the entire story here Governor Announces Social Justice/Advocacy Awards
Clothing Our Kids, Social Justice/Advocacy
Clothing Our Kids (COK) is a nonprofit organization of approximately 150 volunteers whose
mission is to improve the lives of at-risk elementary school children by providing them with
school clothing. In Sussex County, 22 percent of children live below the poverty level and do not
have school clothing. Lack of appropriate school attire has a negative impact on children's self esteem,
school attendance, ability to learn, and can lead to bullying. Clothing Our Kids' goal is
to assist youngsters with an equal start in their early education and help them become successful
students. Working exclusively through nurses, counselors, and assistant principals, volunteers
with Clothing Our Kids respond to requests, usually within 24 hours. Volunteers pack up the
items and deliver them to the school, where the children are presented with the package in
private, so they are never embarrassed in front of their peers. In the 2016-17 school year,
Clothing Our Kids provided more than 20,000 items to 3,852 children.
August 2017 – Delaware Electric Cooperative Community Story
Delaware Living – Clothing Our Kids
July 2017 – WBOC Interview and Story
Clothing Our Children in Sussex County 
July 2017 – Cape Gazette Article 
Clothing Our Kids Seeks Continued Support 
2016 News Article and Video Clips
December 2016 – Mountaire Delmarva Award 
A huge Thank You to Mountaire! Clothing Our Kids was selected for the Mountaire Better Delmarva Award! The ceremony was conducted on December 14. Please view the videos below which will be shared on live TV WMDT.
December 2016 – Clothing Our Kids 
Del-One FCU and the Del-One Foundation are focused on giving back to the community.  The Del-One Foundation raises funds throughout the year for charitable purposes to benefit the residents of Delaware.  Yesterday, 11/29 "Giving Tuesday" kicked off our Holiday Spirit Give Back campaign!  The Foundation donated an additional $7000 to Clothing Our Kids, a local organization whose mission is to "improve the lives of at-risk elementary school children by providing them with essential school clothing".  The Del-One Foundation also sponsored and participated in the Clothing Our Kids annual golf tournament in October, and members and staff of Del-One collected and donated over 15 bags of clothing to this amazing organization.  #GiveBack  #GivingTuesday  #DelOneWay Pictured L-R: Del-One Foundation Board Director Heather Gunter, Del-One Foundation Board President Amy Resh,  Clothing Our Kids Rep. Kate Gibson, and Del-One FCU President/ CEO Dion Williams
November 2016 – Clothing Our Kids Seeks Donations – Cape Gazette Article:
October 2016 – Clothing Our Kids Third Annual Golf Fundraiser Event
WRDE News Coverage
Press Release
 Interview with Mary Rio:   Delmarva Treasure – Clothing our Kids – February 9, 2016

Cape Region Golfers Step Up for Charity Event October 23rd, 2015 
'Clothing Our Kids benefits from donation of 200 coats' – January 28th, 2015 (Download PDF)
'Long Neck woman is Clothing Our Kids' – May 9th, 2013 (Download PDF)
'Fundraising to clothe our kids' – December 3rd, 2013 (Download PDF)

'A Perfect Fit' – September 2013 Issue (Download PDF)

'Nonprofit helps clothe needy kids in Sussex' – February 5, 2015
Amanda Merritt
Mary Rio, co-founder and president of the Clothing Our Kids nonprofit, is aware that a child's clothing can affect his/her self-perception and confidence level. With new clothes being a low priority for struggling families, Rio and her husband have set out to provide sets of clothes, shoes and underwear to elementary school-aged children in need. We talk to her about the nonprofit's continuing mission.
What does your job entail?
As founder, I am in charge of implementing our mission of supplying school clothing to elementary students in need in Sussex County. We collect clothes, take requests for clothes from the schools, and sort them for donation. We collect the requests from districts' counselors and social workers and give them the clothes to distribute.
Where do you think Clothing Our Kids is headed or needs to go?
We are going to stay focused on Sussex County-based schools and make sure that each elementary school child has clothing available to them. Our goal is to educate the community and the schools, so every "at risk" child can attend school, giving them the ability to learn and self-esteem to give them a successful education.
How can your organization get it there?
Our organization has grown so fast because of the economic needs. The clothing inventory has been moved from my house to a very large garage located in Millsboro, donated by J & Y Parker Family Limited Partnership. As we grow, so does our numbers of volunteers. We now have close to 200 wonderful and generous volunteers. Without their continuous support, Clothing Our Kids would not be able to survive. In order to keep up with the demand, we need monetary and gently worn children's clothing donations from size 4T to 18/20 youth. Monetary donations are also very important: without them, we don't exist.
Since this school year began, we have had over 6,000 pieces of clothing donated which will go to about 600 kids. Last year, we had a higher amount and we expect by year's end to clothe about 1,000 kids.
---